"Choosing the right market for your investment is like picking the right weapon in a video game. Make sure it's a power-up, not a pitfall." - Rise Capital
The Ups and Downs of Multi-Family Assets: What You Need to Know in 2023
Let's dig into something that might sound complex but is super important if you're thinking about putting your money into apartment buildings. The good news? We'll break it down so it's as easy as understanding the rules of a video game.
What's Net Absorption and Why Should You Care?
First, let's talk about Net Absorption. This term is like keeping score in a game. It tells you how many apartments got rented out (moved into) minus how many got vacated (moved out of). If more people are moving in than moving out, that's positive net absorption. But if it's the other way around, that's negative.
In 2022, there was negative net absorption. Why? Well, many people decided to stay put in their current apartments, renewing their leases 56% of the time. That's higher than before the pandemic. Others decided to move in with roommates or family. 👨‍👩‍👧‍👦
Impact on Rent
When there's more demand (people moving in), landlords can charge higher rent. 📈 But if more people are moving out, they might have to lower the rent to fill those empty apartments.
What About Deliveries and Starts?
Okay, next term: Deliveries and Starts. Deliveries are new apartments that are ready to be lived in. Starts are new apartments that builders have just begun to construct. 🏗️
If lots of new apartments are getting delivered or started, that's usually because builders expect more people to move to the area. Just like in 2023, where more than 198,800 new units were completed in the first half of the year alone!
Impact on Rent
New apartments usually mean higher rent because they're all shiny and new. But, if too many new apartments are built and there aren't enough people to fill them, rent might actually go down.
When Deliveries Outpace Absorption Rates
If more new apartments are being built (deliveries) than people are moving in (absorption), it's like a video game where you have more lives than you know what to do with. It's fun for a while, but it can also mean that the market is getting too saturated, which might make rents go down. 📉
Why This Matters for Your Investments
So you're probably asking, "Why should I care?" Well, if you're thinking about investing in apartments, you want to pick markets where demand is high and supply is just right. Places like Phoenix, Houston, and Dallas-Fort Worth are doing great because they have jobs and affordable rents.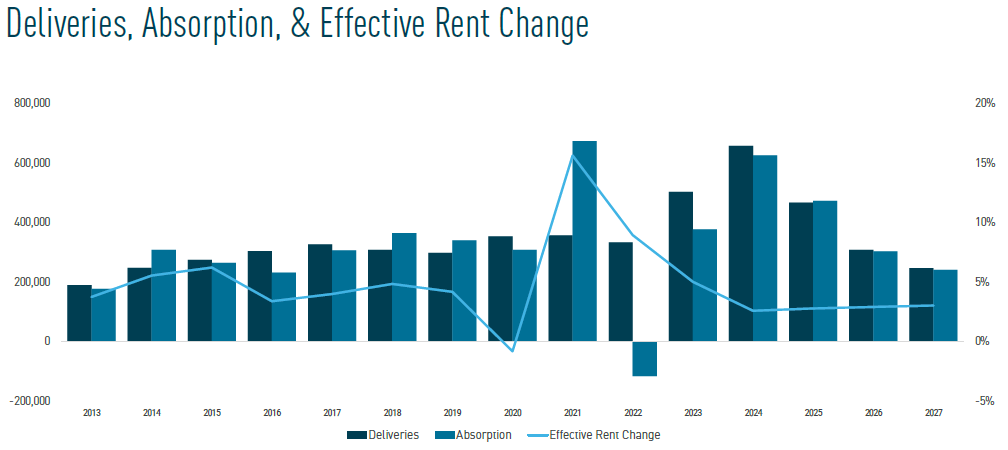 *Source: Berkadia Research and Resources
Final Takeaway
Choosing where to invest is like choosing the right weapon in a video game. You want something that gives you the most points with the least risk. Understanding terms like net absorption and deliveries can help you level up in your investment game.
So, what markets are you looking at for your investments? Let me know in the comments!
Happy Investing! 🎮💰